Bite-Back's campaign to make Britain's retailers 'shark-free' celebrated a massive victory this week following news that nationwide wholesale giant, Makro, plans to de-list blue shark from its 30 stores.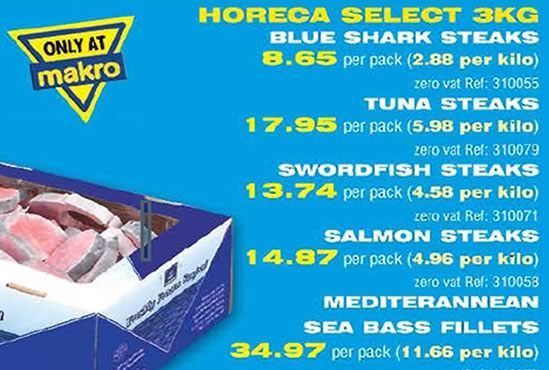 Significantly, Makro is thought to be the last multiple retailer of shark in the country.
From 20 July, Makro will not renew its contract for frozen blue shark across its network. At the same time, Bite-Back has prompted the German-owned cash and carry to de-list fresh marlin from its fish counters.
According to Bite-Back, more than 1,000 supporters sent its pre-scripted emails to the German-owned cash-and-carry expressing concern for dwindling shark and marlin populations. The level of support prompted campaign director for Bite-Back, Graham Buckingham, to say: "This isn't just a victory for Bite-Back and the marine environment; it's a victory for everyone who took part in the online campaign. It's this group of committed divers who own this remarkable success."
While blue shark and marlin are not yet critically endangered, scientific reports suggest that some populations have plummeted by 90% in the last 60 years due to over-fishing and the mismanagement of the oceans.
Huw Edwards, director of offer management for Makro UK, said: "We take our duty to be a responsible wholesaler very seriously. This new approach demonstrates we are committed to working with experts such as Bite-Back to ensure we do not list vulnerable fish species, while meeting the needs of our customers."
Across its campaigns Bite-Back highlights the fact that industrial over-fishing of vulnerable species is fuelled purely by retailer and consumer demand. It maintains that retailers must fully understand and embrace the positive impact they can make to the survival of key species by simply choosing to no longer sell them.
Graham Buckingham said: "Around the world more than 73 million sharks are killed each year to keep up with retail and consumer demand. That's why we continue to educate and work with retailers to help us remove the short-term financial incentive for the fishing industry to hunt these species to the brink of collapse. Makro is to be applauded for putting conservation before commerce."
Makro is now working with the Marine Stewardship Council to gain its full accreditation in the near future.