For most of us, marine pollution is a phantom menace that we don't see, know or hear about unless, of course, an oil tanker spectacularly discharges its cargo into the ocean on prime time television.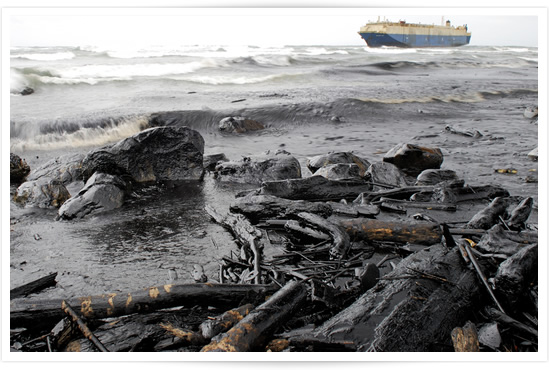 Yet everyday, sewage, oil, chemicals, agricultural pesticides and plastic items enter the seas unchecked to cause untold havoc on the aquatic environment.
Instead of respect and awe for the ocean, industry, commerce and individuals the world over continue to regard the enormity of the seas as a suitable hiding place for its waste products.
Daily, 300 million of gallons of sewage – often untreated – are discharged into British coastal waters introducing harmful bacteria and viruses that can cause diseases. Visit Surfers Against Sewage for more details.
Annually, approximately 706 million gallons of oil enters the oceans from a variety of sources including offshore drilling and oil exploration (37 million gallons), oil tanker accidents (62 million gallons), natural seeps (92 million gallons), industry and transport bi-products (137 million gallons) plus ship maintenance and bilge cleaning (363 million gallons).
But, incredibly, nearly half of all oil pollution in the ocean (343 million gallons) makes its way into the oceans from the urban environment through vehicle ownership and maintenance.
* Every day 300 million gallons of sewage enters British waters
* Vehicle owners dump 343 million gallons of oil each year
* Man-made chemicals, PCB & PAH, cause abnormalities in marine life

Remarkably, even though it is illegal in many countries to dump used engine oil into the drain or elsewhere other than designated receptacles, an enormous number of motorists worldwide continue to flaunt the law, effectively pouring oil directly into the sea. Alarmingly, this ignorant and avoidable behaviour has become one of the single most significant contributors to marine pollution.
Visit Oil Care for your nearest oil recycling bank.
Chemicals from industrial waste and fallout can kill and cause distorted growth in shellfish and reproductive deficiencies in marine life. The most problematic waste includes heavy metals such as mercury and cadmium plus man-made chemicals including polychlorinated biphenyls (PCBs). Whilst PCBs are now banned, they still enter the environment from historical use. Poly-aromatic hydrocarbons (PAHs) are another source of marine toxic pollution and typically originate from oil pollution and burning wood and coal.
These PAHs are responsible for causing genetic chromosomal aberrations in many marine creatures.
Agricultural sewage, fertilisers and pesticides also contribute to higher levels of marine pollution reaching the oceans through run-offs to rivers. Farming chemicals are designed to kill pests and increase the productivity of the land. They have no place in the ocean where, combined with sewage, causes massive nutrient loading in the ocean's ecosystem. High levels of nutrient loading prompts algae blooms, leading to lower levels of dissolved oxygen. In turn, this depletion of oxygen causes the death of many marine organisms.
* Agricultural sewage, fertilisers and pesticides all reach the ocean
* Marine debris introduces new hazards for marine life
* Allegedly, cruise liners are among the worst offenders
* Household pollution is on the rise

Marine debris is yet another daunting illustration of corporations' and individual's lack of respect for the aquatic world. Rubbish is jettisoned from boats all over the world with a horrific accumulative effect. Almost completely un-policed, millions of tonnes of sewage and rubbish is discarded into the sea directly from massive cruise liners, fishing vessels and recreational boaters.
Yet the cruise liners remain amongst the worst culprits. According to Ocean Conservancy, an average sized cruise liner can produce around 30,000 gallons of sewage per day. In addition, 255,000 gallons of 'grey' water from laundries, showers, sinks and dishwashers are also likely to be dumped at sea on a daily basis. Other discharges include 37,000 gallons of oily bilge water and 15 gallons of toxic waste from services such as dry-cleaning and photo-processing.
Alarmingly, the cruise line industry forecasts that by 2005 there will be around 300 cruise ships carrying more than 10 million passengers to vulnerable marine areas in the Caribbean, the Mediterranean, the waters of the Arctic and Antarctica and the North Sea.
Back on land, household pollution of the oceans is on the increase and painfully difficult to monitor. Yet a simple rule applies. If it is flushed or rinsed away, it reaches the ocean. Without stretching the imagination, it is easy to cite detergents (soap and shampoo, washing powder, cleaning products) along with DIY substances like paint and paint strippers plus cooking oils and grease and sanitary products as items that all get flushed or put down the drain.